Digital X-Rays
Using the most advanced technology possible is just as important as staying up-to-date on the latest treatment techniques. Because our practice is dedicated to providing you with the safest and most convenient treatment options available, we utilize advanced digital X-ray technology in our office.
Digital X-rays provide several advanced imaging options designed to save time, provide clearer dental photos, and expose patients to less radiation than traditional X-ray technology.
Our practice is focused on making your dental experience as comfortable as possible. At your next appointment, we'll be happy to answer any questions you may have.
Digital Radiography
Digital radiographs are safer, faster and diagnostically more useful in endodontics than conventional film x-rays. There is up to 80% reduction in radiation, compared to traditional film technology. Patient comfort is greatly increased by utilizing sleek and small, rounded and beveled sensors. The resulting images are digital, allowing computer enhancement, enlargement, and evaluation. To collaborate well with our referring dentists, this greatly improves diagnostic and communication capabilities.
Microscopes
Endodontists use the microscope throughout every dental procedure. The microscope provides optimum visibility and illumination to give you the best treatment outcome possible. Microscopes are essential in providing endodontic treatment at the highest level, and they have numerous clinical benefits:
The microscope allows for the use of smaller instruments and more precision during treatment. Conservation of tooth structure is the key to the best, longest-lasting outcomes.
The increased magnification of the microscope allows an endodontist to minimize the size of the operative site, thereby minimizing healing time.
The microscope allows us to identify tooth canals and locate problems such as cracks and root fractures.
The use of the microscope increases efficiency and often saves you from additional and more complex procedures.
Cone Beam CT Technology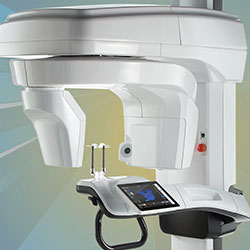 Hamilton Mill Endodontics utilizes Cone Beam CT technology. The Carestream 9000 3D CBCT allows us to take high-quality three-dimensional images of the area or tooth in question, thereby providing more precise and effective treatment.
Cone Beam CT scans are only taken when necessary, and the benefits are remarkable:
Three-dimensional Cone Beam CT scans allows our doctors to better detect, locate, and treat endodontic conditions, such as abscess formation, resorption, and complex anatomy.
Being digital it utilizes less radiation than a traditional X-ray, but yields greater information.
Unlike a conventional 2D dental x-ray, a Cone Beam CT scan can distinguish the differences among various tissues, such as bone, teeth, nerves, and soft tissue.
The Cone Beam CT scan will help our Drs. give you the most accurate diagnosis, prognosis, and treatment recommendations
A Cone Beam CT scan is a cost-effective way of identifying a wide range of dental issues. The efficiency of a Cone Beam CT scan allows for more efficient treatment.